Fiddler's Dream Performance Schedule
Check out our Facebook Events page for the our full calendar and latest event updates at Fiddler's Dream. Like our page there, and get updates in real time!
Our Facebook Main page has news, discussion and just pure fun going on at Fiddler's Dream.
To signup to our weekly E-Notices email list, Click here.
Follow us on Twitter @fiddlers_dream and Instagram @fiddlersdreamcoffeehouse


Thursday nights are Open Stage Night from 6:30 pm to 9:30 pm. $5 admission. Doors open at 6:00 pm. Order of play determined by order of arrival. One song per rotation.

Many wonderful musicians have shared their music on the Fiddler's Dream stage over the years. Our open stage began in 1996! Our Open Mic Night is an Open Stage Night, as we are completely acoustic, so there aren't any mics... just a whole lot of good music, and an appreciative audience!
We've made a few changes in the New Year, hoping to improve the experience for our performers and our audience! Doors open at 6:00 pm, and we start playing at 6:30 pm. If you arrive by 6:30 pm, you will be in the first rotation. If you arrive after 6:30 pm, you will be added to the list under the red line, and play in the second round / rotation. We do a one-song rotation and a time limit of no more than 4 minutes per turn. Stick around, everybody plays!
Play your turn - there are no substitutions or giving your turn to another performer. Give the performer their turn: unless you are invited to play with the performer, please don't play-along with your instrument. Join the audience and listen! And please don't play music outside, except to tune your instrument or quietly warm up a bit. Since we are all acoustic, sound does carry inside!

We discourage the use of cell phones in the performance area. Please turn them off or set to "vibrate". Please do not audio or video record a performer without their permission. Additional information is here.

Admission is $5. Thank you for having fun with us!


Photo: James Van Nuys and Bob Fahey.
Credit: Deb Lux

Friday May 17 ~ Bob Fahey ~ James Van Nuys ~
8:00 pm: Bob Fahey and James Van Nuys will sharing the evening, playing individually and together.
Bob Fahey performs Contemporary Acoustic Blues! Bob Fahey started playing guitar at the age of 12. He spent 15 years on the road with various touring rock bands before returning to the Black Hills in 1989 to raise a family. For the next twelve years Bob's smoldering vocals and searing slide guitar were the driving force behind one of Rapid City's most popular bands, "The Usual Suspects." In 2005 he joined forces with his old friend, James Van Nuys, to form a powerhouse acoustic duo. He describes his music as "contemporary blues" and has been influenced by such artists as J.J. Cale, Robert Cray, and Robert Johnson. https://www.facebook.com/rkaleofahey
James Van Nuys is a finger style guitarist from Rapid City, South Dakota. He plays traditional Delta and country blues. https://www.facebook.com/james.vannuys
Admission tonight is $8. Doors open at 7:15 pm. Music starts at 8:00 pm.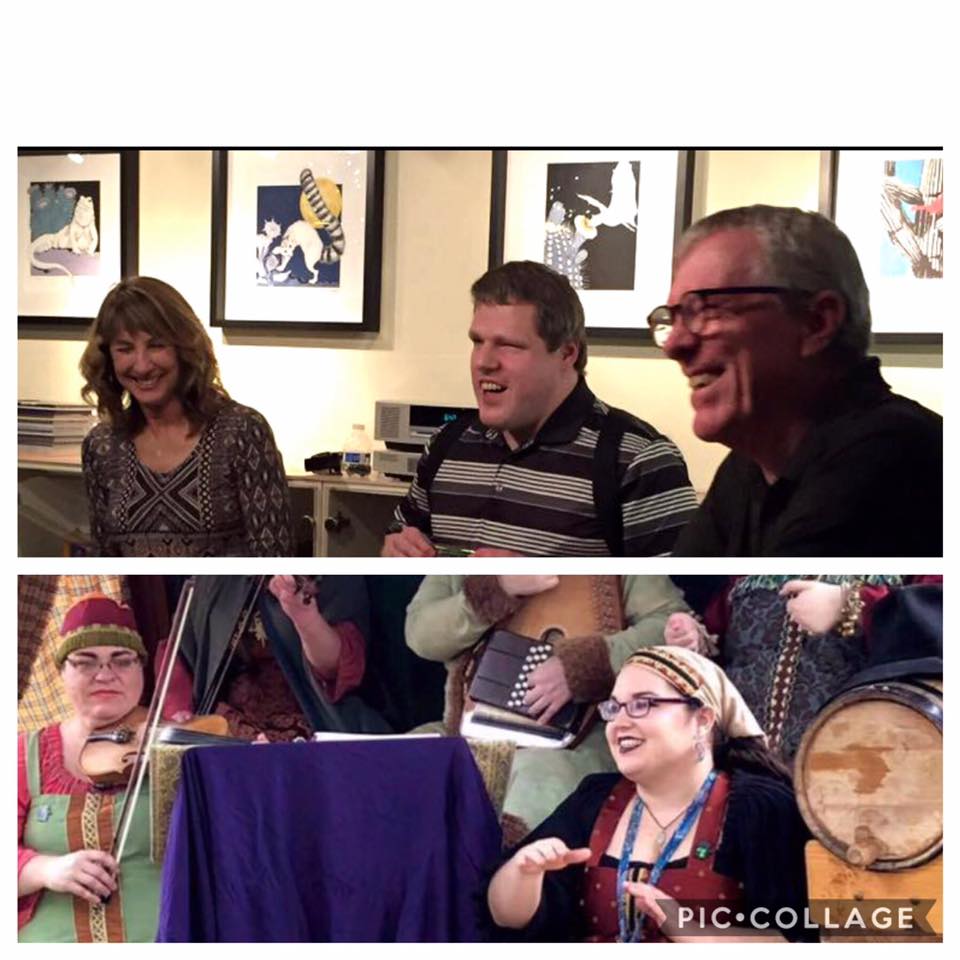 Photo: Unrelated Cousins and Far From Home

Saturday May 18 ~ Unrelated Cousins ~ Far From Home ~
SPECIAL EARLY START TIME BENEFIT EVENT!
7:30 pm: Unrelated Cousins is a band of three friends who play and harmonize acoustic music from the 1960s to the present. Covers such as Bob Dylan, the Beatles, Ed Sheeran, as well as original compositions. Many of their songs are familiar sing alongs and incorporate a variety of instruments including banjo, guitar, mandolin, ukulele, harmonica and auto harp.
8:50 pm: Finish the night with the amazing and talented folks of Far From Home! Far From Home, the husband and wife duo of Tim (Papa Dill) and Amy (Mama Pepper) Shafer, bringing years and histories of musical talent together, from voice to strings, influenced by Renaissance, Celtic and geek culture. And, with both being huge fans of history and mythology it's also pretty much guaranteed that you will learn at least one fun thing while at their show! Tim and Amy often invite their amazing and talented friends to come join them in playing glorious music! Clove (Stacia), a dear loved one, has a beautiful Soprano voice and a snarky wit; she is a great complement to the family and is eagerly learning a few other instruments. Sister Uni (Stephanie) with her singing, quick wit and Fiddling to rival her sister's (Pepper) is fun to have visit. And their sultry cousin Tarragon (Kayla) might even show up to help spice up the night.
A significant portion of the proceeds from tonight's event will go to support Fiddler's Dream!
Admission tonight is $10 advance, $12 at the door. Advance ticket holders get their first drink for FREE!
Doors open at 7:00 pm. Music starts at 7:30 pm.
Advance tickets available at: https://www.brownpapertickets.com/event/4235853

Mark your calendar for these upcoming special events. Check our Facebook page for details.

Friday May 24 ~ Fast Heart Mart ~ TBA ~
Saturday May 25 ~ Jamie O'Brien ~ TBA ~

Saturday June 1 ~ Concert to Benefit Phoenix Legal Action Network (PLAN) ~

Tuesday June 4 ~ Sister Neapolitan Concert Evening ~

Friday June 7 ~ Thomas Zachary ~ TBA ~
Saturday June 8 ~ Kristin Rebecca ~ Soul Sounds ~

Saturday June 24 ~ Mark Mulligan and David Sheehy ~

Friday July 5 ~ Robert Williams ~ TBA ~

Saturday July 20 ~ Nancy Elliott "The Heart Of It All" Workshop ~

Saturday August 24 ~ Van Isaacson & Leah Jean ~ TBA ~

Saturday September 28 ~ Sue Harris and Liz Warren - An Evening of Story and Song ~

December 7 ~ We're Not Dead Yet: Jamie Anderson, Deidre McCalla, Diane Davidson ~

***2020***
Friday March 13 ~ The Rough and Tumble ~ TBA ~


Fiddler's Dream is located one block north of Glendale Avenue on 17th Street, on the Southeast corner of 17th Street and Cactus WREN. Use the newly opened Sprouts grocery at 16th Street and Glendale as a landmark - we are one block further East on Glendale, and when you reach 17th Street turn North and go one block to Cactus Wren. 1702 East Glendale Ave, Phoenix, AZ, 85020 is the street address to plug into your map app.