Fiddler's Dream Performance Schedule
Check out our Facebook Events page for the our full calendar and latest event updates at Fiddler's Dream. Like our page there, and get updates in real time!
Our Facebook Main page has news, discussion and just pure fun going on at Fiddler's Dream.
To signup to our weekly E-Notices email list, Click here.
Follow us on Twitter @fiddlers_dream and Instagram @fiddlersdreamcoffeehouse

How About Volunteering at Fiddler's Dream Coffeehouse!
We need your help... Fidds is a non-profit 501(c)(3) organization, and our coffeehouse engine needs volunteers to keep it running. Please consider helping out - greeting guests with a smile, making and pouring coffee and drinks, taking admission and even being an emcee. And you will get free admission for the night! What a deal!
To find out more about being a Fiddler's Dream Volunteer, contact our volunteer coordinator by SMS-texting your contact info to 602-997-9795. If you don't have a mobile phone, call and leave a message on our VMS at that same number. It's that easy!
Support Fiddler's Dream on AmazonSmile!
Fiddler's Dream Coffeehouse is now an approved charitable organization on Amazon. AmazonSmile is a simple way for you to support Fiddler's Dream every time you shop, at no cost to you. When you shop at smile.amazon.com, you'll find the exact same low prices, vast selection and convenient shopping experience as Amazon.com, with the added benefit that Amazon will donate 0.5% of your eligible purchases to Fiddler's Dream. How cool is that!
Use the following link to set this up: https://smile.amazon.com/ch/74-2489950
Thursday nights are Open Stage Night from 6:30 pm to 9:30 pm.
$5 admission. Doors open at 6:00 pm. Order of play determined by order of arrival. One song per rotation.

Many wonderful musicians have shared their music on the Fiddler's Dream stage over the years. Our open stage began in 1996! Our Open Mic Night is an Open Stage Night, as we are completely acoustic, so there aren't any mics... just a whole lot of good music, and an appreciative audience!
We've made a few changes in the New Year, hoping to improve the experience for our performers and our audience! Doors open at 6:00 pm, and we start playing at 6:30 pm. If you arrive by 6:30 pm, you will be in the first rotation. If you arrive after 6:30 pm, you will be added to the list under the red line, and play in the second round / rotation. We do a one-song rotation and a time limit of no more than 4 minutes per turn. Stick around, everybody plays!
Play your turn - there are no substitutions or giving your turn to another performer. Give the performer their turn: unless you are invited to play with the performer, please don't play-along with your instrument. Join the audience and listen! And please don't play music outside, except to tune your instrument or quietly warm up a bit. Since we are all acoustic, sound does carry inside!

We discourage the use of cell phones in the performance area. Please turn them off or set to "vibrate". Please do not audio or video record a performer without their permission. Additional information is here.

Admission is $5. Thank you for having fun with us!
This Week's Events and More!

Photo: Derral Gleason Credit: Facebook

Friday January 24 ~ William Kollar ~ Dharav Shah ~ Derral Gleason ~
8:00 pm: William Kollar with a short set of covers, personalized with stories from his life in the music industry.
8:30 pm: Dharav Shah writes original music that is thoughtful and inspiring, and does a variety of covers on piano and guitar.
9:15 pm: Derral Gleason is a singer and songwriter from Texas, happily back in Phoenix for awhile this winter, doing set of original music on guitar.

Admission tonight is $8. Doors open at 7:15 pm, and the music begins at 8:00 pm.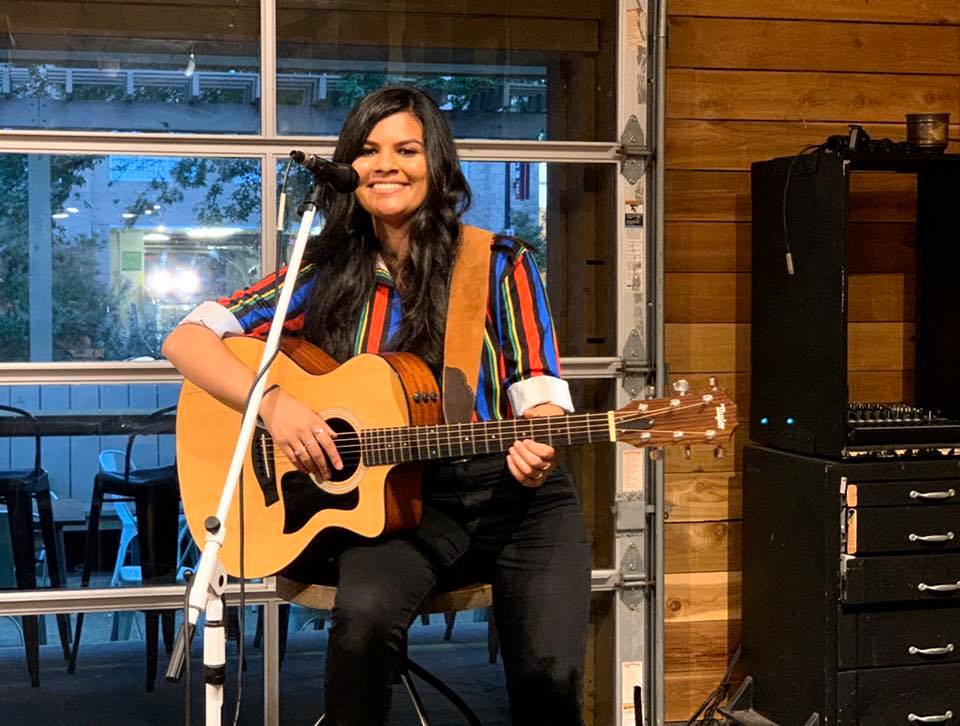 Photo: Aria Narang Credit: Facebook

Saturday 25 ~ Aria Narang ~ Fort Vine ~
8:00 pm: Singer and songwriter Aria Narang is one of Arizona's rising singer/songwriters! She was a 2019 American Idol summer finalist in Los Angeles performing for judges Lionel Richie, Katy Perry, and Luke Bryan. Aria is now celebrating the commercial release of her first singles - "Flight" and "B" produced with award winning and multi-platinum selling NYC composer/producer Stanley Brown. Both singles are available on iTunes, Apple Music, Spotify, YouTube, and all digital platforms worldwide.
Powerful vocals combined with her smooth, acoustic sound, Aria is thrilled to debut at Fiddler's Coffeehouse as she prepares to tour the US.
9:15 pm: Fort Vine is an indie-folk band named after a secret tree fort in Manhattan, built by songwriting duo, Trevor Tunison and Nyna Nelson. Their feel-good music embraces every audience with open arms as their strong harmonies resonate with meaningful poetry and happy grooves.
Fort Vine has been named one of NYC's best unsigned bands by the New York Observer. Their music has been featured in the film, Origins: Transworld Snowboarding and Apple's Solar Eclipse campaign. They successfully crowd-funded the vinyl pressing of their first two records via Feedbands.com and Qrates.com. Recently their music was featured in the trailer of Facebook's new web-series, Five Points.
Fort Vine is currently touring the USA in support of their third release, Rise & Shine. They are living full-time in their beloved diy-converted sprinter van, Gypsee Bungalow, as they travel around the country.

Check them out at: https://www.facebook.com/fortvine/

Admission tonight is $8. Doors open at 7:15 pm, and the music begins at 8:00 pm.





Photo: Mary Davis Credit: Facebook



Photo: Christopher Cook and Emmy Rose Credit: Facebook

Friday January 31 ~ Legends of the Pioneers with Marty Davis ~ Cook and Rose ~
8:00 pm: 'Legends of the Pioneers' with Marty Davis - Marty Davis started out singing Country music, but one of the most popular parts of his show has always been the Western music segment. (For those who don't know the difference: Country is what you hear on the radio currently. It's the nation's favorite and most-listened-to music. Western is what we grew up with…Gene, Roy and the Sons of the Pioneers. It tells the story of the Old West and the Silver Screen Cowboys.) Marty has performed to standing room only crowds in Nevada casinos (the Golden Nugget in Las Vegas; Cactus Pete's in Jackpot; Fitzgerald in Reno to name a few), nightclubs, fairs, conventions, concerts and rodeos around the U.S. He spent several years singing bass and traveling the world with the legendary Fifties group, The Diamonds and, though he loved the good ole Rock & Roll, he really missed doing his own kind of music.
Marty will take you on a nostalgic trip through time… back to when the good guys wore white hats, kissed their ponies instead of the girls, headed the bad guys off at the pass and always caught'em in the end! All without mussing up their rhinestone and fringed shirts and then rode off into the sunset.

Check Marty out at: https://www.facebook.com/The-Marty-Davis-Show-326702356794/

9:15 pm: Cook and Rose are a duo from Central Texas playing original music rooted in folk and blues. Their songs of sadness, loss, and defiance reflect their Western roots and longing for redemption.

Christopher Cook and Emmy Rose met in Austin in 2013. Since then, they have released two albums and toured extensively through the Western United States. In their music, Emmy's direct, clear voice blends with Christopher's ragged tenor to produce an unusual sound described as "diamonds and gravel." Cook and Rose released their second album, "The Lonesome American," in May 2017.
Check them out at: https://www.facebook.com/CookAndRose/

Admission tonight is $8. Doors open at 7:15 pm, and the music begins at 8:00 pm.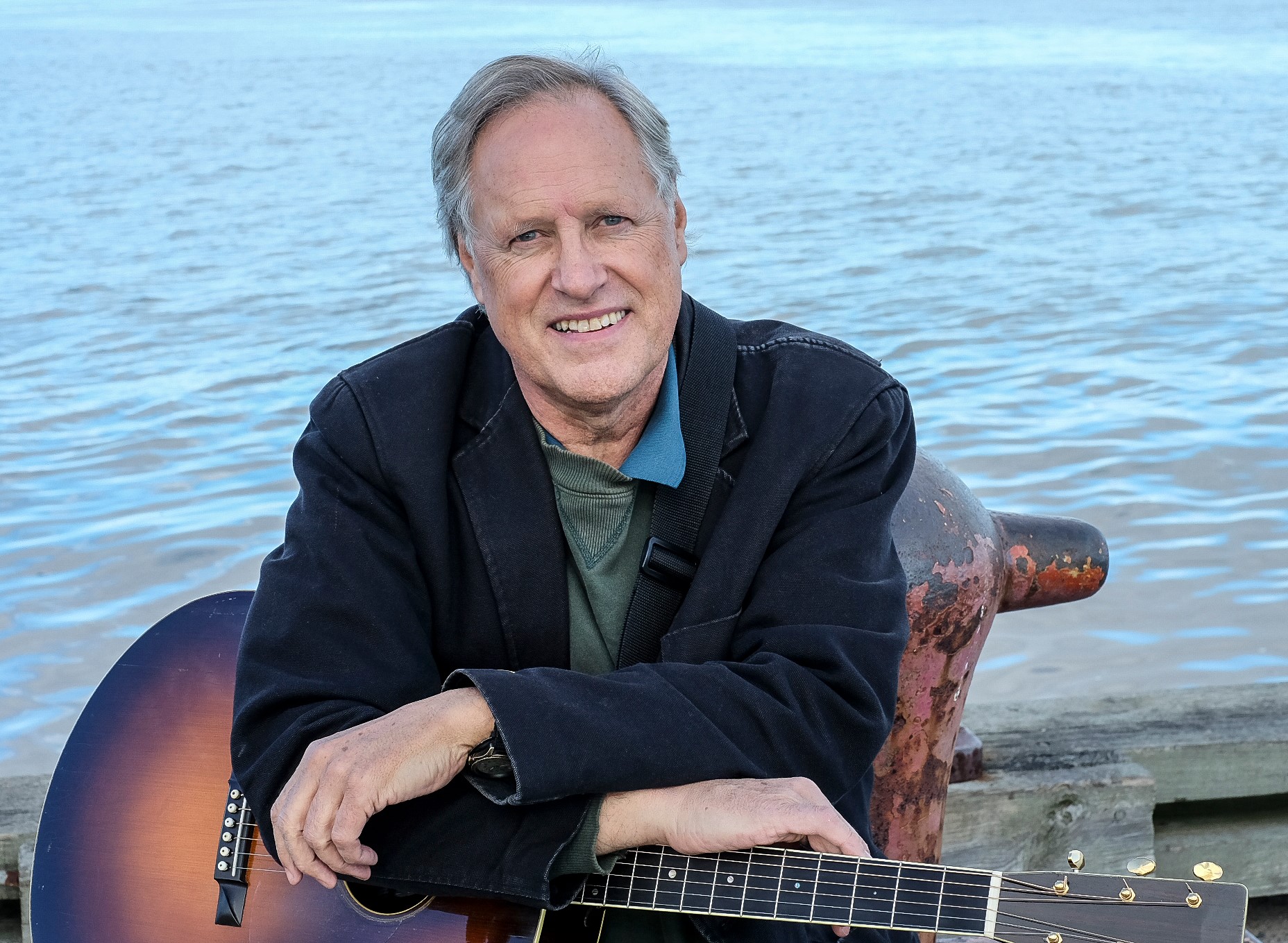 Photo: Tom Chapin Credit: Facebook

Saturday February 1 ~ Tom Chapin Concert Evening ~
8:00 pm: With no seat more than six rows from the stage, you are sure to have a special evening with Tom Chapin and his music, performed on guitar, banjo, and autoharp in the intimate listening room environment of Fiddler's Dream.
In a career that spans five decades, 26 albums and three GRAMMY awards, multi-talented singer/songwriter/guitarist Tom Chapin has covered an incredible amount of creative ground. In addition to his work as a recording artist and concert performer, Chapin has acted on Broadway, as well as working extensively in films, television and radio. As a music-maker, Chapin has maintained two long and productive parallel careers, both as a highly respected contemporary folk artist and as a pioneer in the field of children's music. In the former role, Chapin has established a reputation for insightful, heartfelt songcraft and effortlessly charismatic live performances. In the latter, he continues to engage the hearts, minds and imaginations of young listeners with witty, life-affirming original songs delivered in a sophisticated array of musical styles. In either format, Chapin's infectious songs, sterling musicianship and personal warmth consistently shine through, whether he's performing on record or in a concert hall, an outdoor festival, a school, in front of a symphony orchestra or in an intimate coffeehouse. The New York Times called Chapin "one of the great personalities in contemporary folk music."
The son of noted jazz drummer and teacher Jim Chapin and the grandson of author/critic Kenneth Burke and portrait painter James Chapin, Tom grew up in a family that encouraged artistic pursuits. He began performing professionally as a teenager in the early 1960s, playing in Greenwich Village folk clubs alongside his siblings Harry and Steve as The Chapin Brothers. In 1971, he began a five-year run as the host of the Emmy- and Peabody award-winning ABC-TV children's series Make A Wish. In addition to his varied musical and media endeavors, Chapin is also a powerful advocate on behalf of a variety of charitable causes. He is an active board member of WhyHunger, the organization which the artist's older brother, the late singer-songwriter/activist Harry Chapin, founded
(as World Hunger Year) in the 1970s. He also remains active in a variety of environmental causes, as well as efforts on behalf of music and the arts in our public schools.
Tickets are $22 advance, or $20 at our "bring a friend" group rate! Admission at the door the night of the show will be $25. Tom's concert will be held in the large Meeting room. Doors will open at 7:15 pm. Advance tickets: https://www.brownpapertickets.com/event/4401381

Tuesday February 4 ~ Pocket Thoughts - Poetry Night! ~
8:00 pm: Pocket Thoughts is a monthly poetry night that features three local poets to highlight the talent in Phoenix! Pocket Thoughts also aims to give back to the community by donating 15% of ticket sales to a different nonprofit each month.
Featured Poets:
TBA
Featured Nonprofit: TBA
Admission tonight is $8. Doors open at 7:30 pm.




Photo: James Matt Credit: Facebook



Photo: Jill Cohn Credit: Facebook - jillcohn.com

Friday February 7 ~ James Matt ~ Jill Cohn ~
8:00 pm: James Matt: "The joy of live performance has always resonated with me from my earliest years. As a musician I see music as a connecting influence upon the human spirit that transcends culture. As a singer/songwriter my aim as a guitarist is to give expression to the mutual hopes, fears and dreams of our common humanity. I returned to music later in life after spending decades in less rewarding pursuits. In the process I discovered a gift for writing music that is simple and relatable. While some songs are autobiographical, others are not. In all of them I seek to give expression to the fears, cares, hurts and stuff of life we all can relate to. While I have a deep appreciation for all genres of musical expression, raw acoustic instrumentation and vocal arrangements reflect my musical DNA. There is something too idyllic to me about the sounds of acoustic strings, percussion, wind instruments and unmanipulated vocals that is renewing to my spirit."
9:15 pm: Songstress Jill Cohn arrived in Seattle in 1997, just in time for the rebirth of the coffee house. Time was ripe for song and melancholy in the Emerald City, and there were many up and coming female singer/songwriters coming on the scene. Jill's piano-driven pop fit right in and she was quickly welcomed to perform at many venues and songwriter's circles. Performing solo and with her band, she began touring extensively after becoming a Top Five Finalist During the first National Lilith Fair Competition Talent Search, which landed her on the cover of the Seattle Times Entertainment Section. Her 4th album, "the absence of moving" became a mainstay on AAA Radio with the first single "Louisiana Lover" receiving accolades from Rolling Stone, Songwriter Magazine and Album Network. In 2001 she released her critically acclaimed "Window to the Wise" with her Seattle bandmates and songs from that album can be found on Dawson's Creek, Hawthorne, and Party of Five. Shortly after the release of "Window" Cohn was selected to perform with JEWEL during the singers' Soul City Songwriter's Competition, where Jill was a Top Ten Finalist. Between 2001 - 2017, Cohn toured nationally, and continued to write and release albums, working with Producer Martin Feveyear (Brandi Carlilie) on her "Seven Year Surrender" release, and with Malcolm Burn (Emmylou Harris / Bob Dylan) on her 2015 release, "Heartstrings Touching Ground" and most recently her 2018 release "Balanced on the Rail". An endorsee of both Taylor Guitars and Elixir Strings, Jill Cohn continues to tour nationally, playing nearly 200 nights a year. She has shared the stage with many nationally touring artists, including: Horse Feathers, Vonda Shepard, Stacey Earle, Loudon Wainwright III, Cheryl Wheeler, It's a Beautiful Day, Elvin Bishop, David Bromberg, Dave Matthews and Shawn Mullins.
Check out Jill at https://jillcohn.com/ and this video: https://www.youtube.com/watch?v=FLc-YqhW3yQ

Admission tonight is $8. Doors open at 7:15 pm, and the music begins at 8:00 pm.



Photo: Christy Fisher and the Wallens Credit: Facebook

Saturday February 8 ~ Christy Fisher - The Wallens ~
8:00 pm: Singer/songwriter Christy Fisher has travelled the musical paths as a fashion designer and backup singer, wrapping around performers like Frank Zappa, Jimi Hendrix, Eric Clapton, Boulder, Helix, Purlee, and Wizard. Her group, Cattywampus, features players that have come together through various collaborations in her musical journey. Christy is going solo on this evening of guitar, ukulele and perhaps a bit of piano, and still brings the vibe of community, family love, commitment to quality performances, and FUN along with!
9:15 pm: The Wallens have brought their close-knit harmony vocals and storytelling to Australia, Europe, and across the US to events like the Telluride Blues Fest and the Marquette Winter Roots Festival. Originally hailing from Kentucky, Molly is a classically-trained vocalist with experience in opera and bluegrass alike. Hoosier guitarist/vocalist Brian Keith Wallen won 2nd place in the 2015 International Blues Challenge and was also named "Artist of the Year" by the Starr-Gennett Foundation. Incorporating elements of blues, bluegrass, country, and folk, Brian and Molly's combined influences range from acoustic favorites like Chris Stapleton and John Prine to the guitar-driven blues of John Mayer and Bonnie Raitt. Whether at a house concert, festival, or a lovely local coffeehouse, their foot-stomping energy brings a fresh dimension to roots music.
Check out the Wallens at: https://www.facebook.com/thewallensmusic/

Admission tonight is $8. Doors open at 7:15 pm, and the music begins at 8:00 pm.
---
Mark your calendar for these upcoming special events. Check our Facebook Events page for details.

Friday January 31 ~ Legends of the Pioneers with Marty Davis ~ Cook and Rose ~

Saturday February 1 ~ Tom Chapin Concert Evening ~ (Advance tickets available https://www.brownpapertickets.com/event/4401381 )

Tuesday February 4 ~ Pocket Thoughts - Poetry Night! ~
Friday February 7 ~ James Matt ~ Jill Cohn ~
Saturday February 8 ~ Christy Fisher ~ The Wallens ~

Saturday February 15 ~ TBA ~ Larry Jolly ~ TBA ~

Friday February 28 ~ Candy Blossom - and more! ~

Tuesday March 3 ~ Pocket Thoughts - Poetry Night! ~

Wednesday March 4 ~ Danish Folk Music with Gangspil In Concert ~ (Advance tickets available https://www.brownpapertickets.com/event/4506946 )
Friday March 6 ~ TBA ~ The Brown Mountain Lightning Bugs ~

Saturday March 7 ~ Three-Legged Dog~ Tim Kapeluck ~

Friday March 13 ~ Pamela Jean ~ The Rough and Tumble ~ TBA ~
Saturday March 28 ~ Mike Scully and Brian McGeever ~ TBA ~

Saturday April 4 ~ Chloe Kimes ~ TBC ~

Friday April 17 ~ Kimberly Atwood ~ TBA ~ TBA ~
Saturday April 18 ~ Rick Christian ~ TBA ~
Friday April 24 ~ The Heart Collectors from Australia - Progressive Folk Originals ~ (Advance tickets available https://www.brownpapertickets.com/event/4506541 )
Friday May 15 ~ TBA ~ Louise, Lately ~

Friday July 24 ~ Rupert Wates ~ TBA ~

Saturday August 29 ~ Play Music On The Porch Day 2020!

Friday November 6 ~ Angwish ~ TBA ~ TBA ~
---
Fiddler's Dream is located one block north of Glendale Avenue on 17th Street, on the Southeast corner of 17th Street and Cactus WREN. Use the newly opened Sprouts grocery at 16th Street and Glendale as a landmark - we are one block further East on Glendale, and when you reach 17th Street turn North and go one block to Cactus Wren. 1702 East Glendale Ave, Phoenix, AZ, 85020 is the street address to plug into your map app.