Fiddler's Dream Performance Schedule
Fiddler's Dream is closed until further notice.
See below for our STAY AT HOME Virtual Open Stage nights
Check out our Facebook Events page for the our full calendar and latest event updates at Fiddler's Dream. Like our page there, and get updates in real time!
Our Facebook Main page has news, discussion and just pure fun going on at Fiddler's Dream.
To signup to our weekly E-Notices email list, Click here.
Follow us on Twitter @fiddlers_dream and Instagram @fiddlersdreamcoffeehouse
Help keep the dream alive while Fiddler's Dream is closed due to the COVID-19 pandemic by making a donation via PayPal:
COVID UPDATE: We are currently closed for in-person events until it is safe to do so. We will be opening again, just know that it may be in LATE 2021, or even 2022. Our concern about the safety and health of our community must come first - although we certainly do miss you all! We are making some updates to the property while we have the opportunity and look forward to sharing that with you as soon as we can safely open! We do have our ZOOM Virtual Open Stage on Thursdays and Saturdays (international version), so please join us there if you'd like to play, and follow along on our Facebook page if you'd simply like to listen. There is a link to the ZOOM meeting below. Join us Thursdays at 6:30 pm AZ time and Saturdays at 9:00 am AZ time virtually on Zoom! We also stream the event live on the Fiddler's Dream Facebook page. Stop on by!
How About Volunteering at Fiddler's Dream Coffeehouse!
We need your help... Fidds is a non-profit 501(c)(3) organization, and our coffeehouse engine needs volunteers to keep it running. Please consider helping out - greeting guests with a smile, making and pouring coffee and drinks, taking admission and even being an emcee. And you will get free admission for the night! What a deal!
To find out more about being a Fiddler's Dream Volunteer, contact our volunteer coordinator by SMS-texting your contact info to 602-997-9795. If you don't have a mobile phone, call and leave a message on our VMS at that same number. It's that easy!
Support Fiddler's Dream on AmazonSmile!
Fiddler's Dream Coffeehouse is now an approved charitable organization on Amazon. AmazonSmile is a simple way for you to support Fiddler's Dream every time you shop, at no cost to you. When you shop at smile.amazon.com, you'll find the exact same low prices, vast selection and convenient shopping experience as Amazon.com, with the added benefit that Amazon will donate 0.5% of your eligible purchases to Fiddler's Dream. How cool is that!
Use the following link to set this up: https://smile.amazon.com/ch/74-2489950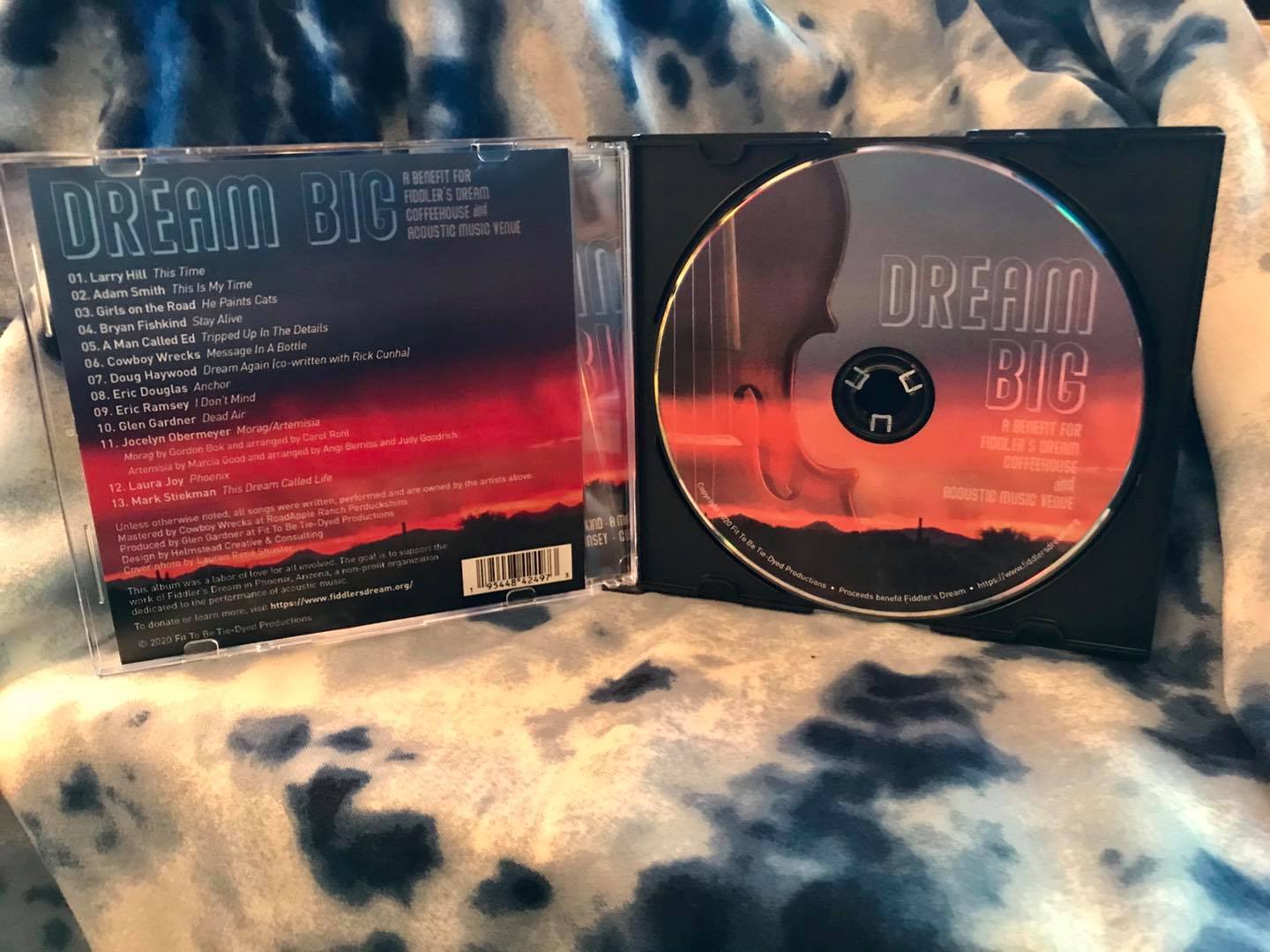 Dream Big Benefit CD
The Dream Big CDs have arrived! All net proceeds to benefit Fiddler's Dream!!! A minimum $10 is requested. If you'd like to purchase one but aren't within driving distance for one of our pickup events at Fidd's (check our Fidd's Facebook page), let us know via FB message, or text message to or call 602-997-9795, or email nia@yellowdogs.com and we can figure out mailing details.
This Week's Events and More!


STAY AT HOME Virtual Acoustic Open Stage
We are continuing this successful online event. If you have Zoom (free to download), you can join us! If you sign in by 6:30 pm, you will be in the first rotation. If you sign in after 6:30 pm, you will be added to the list under the red line, and play in the second round / rotation. We do a one-song rotation and a time limit of no more than 4 minutes per turn. We will be live streaming on Facebook (Fiddler's Dream Facebook page) if you'd like to join in as part of the audience! Check the Fidd's Facebook page for last minute open stage time changes. Instructions below.
Help keep the dream alive while Fiddler's Dream is closed due to the COVID-19 pandemic by making a donation via PayPal:
Thank you for having fun with us!

Thursday December 2 STAY AT HOME Virtual Acoustic Open Stage Night Via Zoom 6:30 pm - 8:45 pm

We are continuing this successful online event, and we have added another virtual event, the Fiddler's Dream Virtual Open Mic, International Version! We thought it would be fun to do a Saturday morning open mic so those folks in way different time zones could join in the fun, and share their music! Everyone is welcome, around the world and right from your own home, or pub, or ... A singer/songwriter will open with a three-song set, then we all play round-robin across the globe. We will also be live streaming on Facebook (Fiddler's Dream Facebook page) if you'd like to join in as part of the audience!

Saturday December 4 STAY AT HOME Virtual Acoustic Open Stage International Version Via Zoom 9 am MST (Arizona Time), 11 am Eastern, 4 pm UK, 6 pm Tel Aviv.

Both Open Stage events use the Zoom setup below:

Join Zoom Meeting
https://zoom.us/join
Meeting ID: 536 852 805
Password: 027023

We will be live streaming on Facebook if you'd like to join in as part of the audience!

Zoom Instructions

We have learned a lot over the past few weeks about the technical hurdles of the platform. Here a few suggestions to make it go smoother -

1. Access the room on a desktop or laptop. Secondarily a tablet and as a means of last resort, the phone.

2. If you don't have high-speed internet you will have problems.

3. If you plan on playing, it's best to have a USB mic at a minimum. More elaborate rigs include USB audio interfaces such as Scarlett Focusrite units that allow you to mix a mic and a guitar direct into the computer. If you just have what's standard on your computer, no worries, it should work ok.

4. There are two settings in the advanced audio settings that will improve your experience.There should be a small mic in the lower left of your screen. That takes you to audio settings, then advanced settings. Under audio processing disable the first two dropdowns. Suppress Persistent background Noise and Suppress Intermittent Background Noise. DISABLE BOTH. This avoids the guitar cutting out which the noise suppression would identify as background noise.

5. Unless it's your turn to play, please leave your audio muted. You will automatically be muted when you enter the room after being approved from admittance from the waiting room.

6. To start your video feed, click on the small video camera in the lower left when you are ready.

If you have any questions, don't hesitate to ask.
---
Mark your calendar for these upcoming special events. Check our Facebook Events page for details.

***2021***
Friday April 23 ~ The Heart Collectors from Australia - Progressive Folk Originals ~ CANCELED FOR 2021 - LOOKING FORWARD TO 2022!
We are having to cancel/postpone The Heart Collectors once again. Let us all work together to gain some safety during these times, and look forward to when travel can be safely resumed and live music events can be scheduled again. (Ticket refunds at: https://www.brownpapertickets.com/event/4555796 )
---
Fiddler's Dream is located one block north of Glendale Avenue on 17th Street, on the Southeast corner of 17th Street and Cactus Wren. Use the newly opened Sprouts grocery at 16th Street and Glendale as a landmark - we are one block further East on Glendale Ave, and when you reach 17th Street, turn North and go one block to Cactus Wren, turn right (East), and the next right takes you into the parking lot. We are on the grounds of the Phoenix Friends Meeting (Quakers).
1702 East Glendale Ave, Phoenix, AZ, 85020 is the street address to plug into your map app.