Fiddler's Dream Performance Schedule
Check out our Facebook Events page for the our full calendar and latest event updates at Fiddler's Dream. Like our page there, and get updates in real time!
Our Facebook Main page has news, discussion and just pure fun going on at Fiddler's Dream.
To signup to our weekly E-Notices email list, Click here.
Follow us on Twitter @fiddlers_dream and Instagram @fiddlersdreamcoffeehouse

How About Volunteering at Fiddler's Dream Coffeehouse!
We need your help... Fidds is a non-profit 501(c)(3) organization, and our coffeehouse engine needs volunteers to keep it running. Please consider helping out - greeting guests with a smile, making and pouring coffee and drinks, taking admission and even being an emcee. And you will get free admission for the night! What a deal!
To find out more about being a Fiddler's Dream Volunteer, contact our volunteer coordinator by SMS-texting your contact info to 602-997-9795. If you don't have a mobile phone, call and leave a message on our VMS at that same number. It's that easy!

Thursday nights are Open Stage Night from 6:30 pm to 9:30 pm.
$5 admission. Doors open at 6:00 pm. Order of play determined by order of arrival. One song per rotation.

Many wonderful musicians have shared their music on the Fiddler's Dream stage over the years. Our open stage began in 1996! Our Open Mic Night is an Open Stage Night, as we are completely acoustic, so there aren't any mics... just a whole lot of good music, and an appreciative audience!
We've made a few changes in the New Year, hoping to improve the experience for our performers and our audience! Doors open at 6:00 pm, and we start playing at 6:30 pm. If you arrive by 6:30 pm, you will be in the first rotation. If you arrive after 6:30 pm, you will be added to the list under the red line, and play in the second round / rotation. We do a one-song rotation and a time limit of no more than 4 minutes per turn. Stick around, everybody plays!
Play your turn - there are no substitutions or giving your turn to another performer. Give the performer their turn: unless you are invited to play with the performer, please don't play-along with your instrument. Join the audience and listen! And please don't play music outside, except to tune your instrument or quietly warm up a bit. Since we are all acoustic, sound does carry inside!

We discourage the use of cell phones in the performance area. Please turn them off or set to "vibrate". Please do not audio or video record a performer without their permission. Additional information is here.

Admission is $5. Thank you for having fun with us!
This Week's Events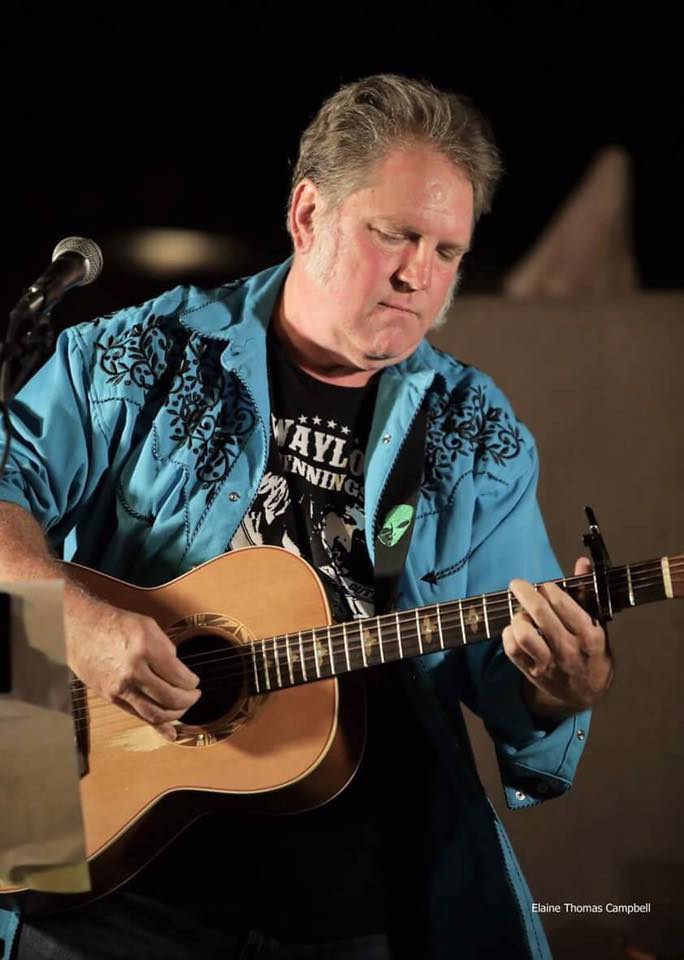 Photo: Eddy Roswell Credit: Elaine Thomas Campbell (via Facebook)



Photo: Ian Flanigan Credit: Facebook

Friday December 6 ~ Eddy Roswell ~ Ian Flanigan ~
8:00 pm: Singer and songwriter Eddy Roswell will be sharing some new original music tonight. Country, folk, rock, blues, tejano and soul from the Great American Southwest.
9:15 pm: Ian Flanigan "inspires a nostalgic sentiment akin to wistful escapism… emotional without being weepy, vulnerable without being pitiful, and conceptual while still remaining relatable" (Gallagher, SUNY editorial). Flanigan's sound—an eclectic blend of progressive folk-pop and percussive finger-style—is reminiscent of the road less traveled, paved with poignant lyrical truths of his past.

"Imagine Tom Waits as a member of Mumford & Sons playing songs by the Lumineers, with a hint of Chris Stapleton. That's my impression of Flanigan, whose smoky barroom voice provides contrast to the melodic plea he unleashes with an urgency. Overall, Flanigan offers the kind of optimism that is hard-won after losing on the kind of bets that alter the trajectory of a life—bets you make on yourself, bets you make on others, bets that fail to deliver more often than they come through" (John Barry, Poughkeepsie Journal).

Local to upstate New York, Flanigan's songwriting features his rich, husky voice and evocative lyrics highlighting the rural landscape of his compositions. Each song serenades the unity of life and an affinity for atonement—a sound that's provocative, and familiar. Flanigan is a celebrated Kerrville New Folk Festival finalist, Emerging Artist for Falcon Ridge Folk Festival, Hope Rocks' Artist of the Year, and an alumni of the Dripping Springs Texas Songwriter Festival. Flanigan has had the pleasure of sharing stages with John Fogerty, Grace Potter, Tedeschi Trucks, Corey Glover, Sean Rowe, The Pedrito Martinez Group, Session Americana, Chris Knight, and Dwight Yoakam. He been named Best of the Hudson Valley's 2019 Best Vocalist/Best Artist, and SongwriterUniverse's Best Song of the Month Finalist.
Admission tonight is $8. Doors open at 7:15 pm, and the music begins at 8:00 pm.

Photo: Deidre McCalla, Dianne Davidson, Jamie Anderson Credit: Janice Rickert (via Facebook).

Saturday December 7 ~ We Aren't Dead Yet: Jamie Anderson, Deidre McCalla, Dianne Davidson ~
8:00 pm: Dianne Davidson, Deidre McCalla, and Jamie Anderson have years of performance experience between them. All three maintain solo careers but sometimes get together for this round robin extravaganza to prove that older doesn't mean dead.
"We are part of the vibrant women's music movement that began in the seventies. Dianne and Deidre recorded for Olivia Records and we all did solo shows at hundreds of venues, from coffeehouses to Carnegie Hall. Appearing on stage together for "We Aren't Dead Yet," we perform songs spanning our careers, solo and with each other."
Dianne Davidson got a record contract instead of a high school diploma and went on to release seven albums including one for Second Wave (Olivia) in 1988. She's worked with everyone from Linda Ronstadt to Tammy Wynette. Part of the Nashville scene, her style is hard to define so she jokingly calls it "field and stream." Whatever it is, expect a variety, from heartfelt ballads like "Tonight I'll Dream That You Care" to rollicking covers like Willie Dixon's "Built for Comfort."
The Miami Herald affectionately dubbed Deidre McCalla a "dreadlocked troubadour." She is a much beloved performer in both folk and women's music circles and has shared the stage with a long list that includes Tracy Chapman and Cris Williamson. With five critically acclaimed albums, her songs reflect a wide range of experiences from the moving "Girl You Don't Know" to the reflective ballad "Cradled in Green."
Hailing from Ottawa, Canada, Jamie Anderson is a multi-instrumentalist and singer-songwriter-comic. She's played in 47 states and 4 countries, and released 11 albums including her newest The Truth Appears. Songs range from tongue-in-cheek ("Menopause Mambo") to serious ("Black and White"). Her memoir, Drive All Night, was released in 2014 and her second book comes out in 2019. She doesn't know anyone famous but she once passed Pat Benatar on a staircase.

We will be in the large Meeting room, just down the path from our usual space. Doors will open at 7:15 pm and the music begins at 8:00 pm. Tickets are $15 advance (see link below) and will be $20 at the door.
https://www.brownpapertickets.com/event/4443661
---
Mark your calendar for these upcoming special events. Check our Facebook Events page for details.

Friday December 13 ~ Mollie and Friends ~ George Charles Nelson III ~

Saturday December 14 ~ Keith Anderson - Jocelyn Obermeyer and Chrissy Dart ~

Friday December 20 ~ Megha Morganfield ~ Curtis T ~

Saturday December 21 ~ Holiday Concert Night with High Strung and Begged and Borrowed ~

Saturday December 28 ~ Kris Schultz ~ TBA ~

***2020***

Tuesday January 7 ~ Pocket Thoughts - Poetry Night! ~

Saturday February 1 ~ Tom Chapin Concert Evening ~ (Advance tickets available https://www.brownpapertickets.com/event/4401381 )

Wednesday March 4 ~ Danish Folk Music with Gangspil In Concert ~

Saturday March 7 ~ TBA ~ Tim Kapeluck ~

Friday March 13 ~ The Rough and Tumble ~ TBA ~

Friday May 15 ~ TBA ~ Louise, Lately ~

Saturday August 29 ~ Play Music On The Porch Day 2020! ~
---
Fiddler's Dream is located one block north of Glendale Avenue on 17th Street, on the Southeast corner of 17th Street and Cactus WREN. Use the newly opened Sprouts grocery at 16th Street and Glendale as a landmark - we are one block further East on Glendale, and when you reach 17th Street turn North and go one block to Cactus Wren. 1702 East Glendale Ave, Phoenix, AZ, 85020 is the street address to plug into your map app.