Fiddler's Dream Performance Schedule
Check out our Facebook Events page for the our full calendar and latest event updates at Fiddler's Dream. Like our page there, and get updates in real time!
Our Facebook Main page has news, discussion and just pure fun going on at Fiddler's Dream.
To signup to our weekly E-Notices email list, Click here.
Follow us on Twitter @fiddlers_dream and Instagram @fiddlersdreamcoffeehouse

How About Volunteering at Fiddler's Dream Coffeehouse!
We need your help... Fidds is a non-profit 501(c)(3) organization, and our coffeehouse engine needs volunteers to keep it running. Please consider helping out - greeting guests with a smile, making and pouring coffee and drinks, taking admission and even being an emcee. And you will get free admission for the night! What a deal!
To find out more about being a Fiddler's Dream Volunteer, contact our volunteer coordinator by SMS-texting your contact info to 602-997-9795. If you don't have a mobile phone, call and leave a message on our VMS at that same number. It's that easy!

Thursday nights are Open Stage Night from 6:30 pm to 9:30 pm.
$5 admission. Doors open at 6:00 pm. Order of play determined by order of arrival. One song per rotation.

Many wonderful musicians have shared their music on the Fiddler's Dream stage over the years. Our open stage began in 1996! Our Open Mic Night is an Open Stage Night, as we are completely acoustic, so there aren't any mics... just a whole lot of good music, and an appreciative audience!
We've made a few changes in the New Year, hoping to improve the experience for our performers and our audience! Doors open at 6:00 pm, and we start playing at 6:30 pm. If you arrive by 6:30 pm, you will be in the first rotation. If you arrive after 6:30 pm, you will be added to the list under the red line, and play in the second round / rotation. We do a one-song rotation and a time limit of no more than 4 minutes per turn. Stick around, everybody plays!
Play your turn - there are no substitutions or giving your turn to another performer. Give the performer their turn: unless you are invited to play with the performer, please don't play-along with your instrument. Join the audience and listen! And please don't play music outside, except to tune your instrument or quietly warm up a bit. Since we are all acoustic, sound does carry inside!

We discourage the use of cell phones in the performance area. Please turn them off or set to "vibrate". Please do not audio or video record a performer without their permission. Additional information is here.

Admission is $5. Thank you for having fun with us!
This Week's Events

Photo: Andrew Ryan Credit: Facebook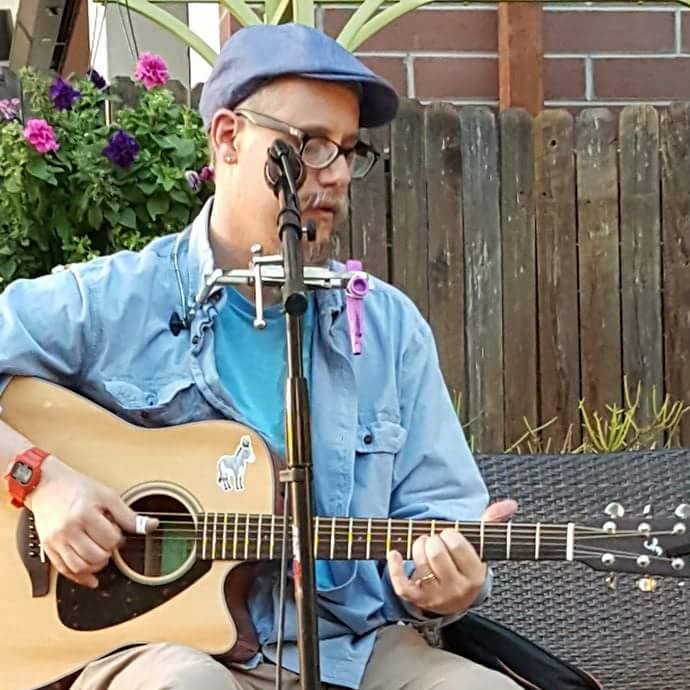 Photo: Todd Baio Credit: Facebook

Friday September 13 ~ Andrew Ryan ~ Todd Baio ~
8:00 pm: Andrew Ryan is a St. Louis-based producer turned musician after being in the industry for 13 years. Ryan is a graduate of the Conservatory of Recording Arts & Sciences (CRAS) and shortly afterward landed an internship with indie rock recording legend Steve Albini at his Chicago studio, Electrical Audio.
Ryan released his freshman album "Across Currents" on September 29th, 2017. The album is meant to be a shadow of Ryan's life over the previous years touching subjects like his relationship with his daughter, the loss of one of his best friends, the general pressures of life, and the restlessness leading up to this point. It has a middle-of-the-road tone that mixes alt-country with elements of indie rock. Songs like "Take Aim" combine quiet, guitar picking with soothing cello, toy-like glockenspiel, and melodic piano to create sounds you'd hear in "Perks of a Wallflower" or "13 Reasons Why." Other songs such as "Fire" stay true to the indie rock feel with feedback and reverse guitars driving a steady, almost anthem-like melody. The 12-song album was written and mixed by Ryan and later cut to vinyl by six-time, Grammy award winning producer, Jeff Powell.
Notably, Ryan and his band have supported acts such as Rayland Baxter, Jay Allen, and Andrew Bryant (of Water Liars). Check out Andrew at: https://www.facebook.com/andrewryanAcrossCurrents/
9:15 pm: Todd Baio is an acoustic music troubadour and one-man band! He specializes in folk music, country, blues, gospel and Tin Pan Alley hits of a bygone era. Check out Todd at: https://www.facebook.com/todd.baio

Admission tonight is $8. Doors open at 7:15 pm. Music starts at 8:00 pm. Remember that we are cash only right now.






Photo: Steve Spurgin Credit: Facebook



Photo: Doug Haywood Credit: Facebook

Saturday September 14 ~ Steve Spurgin ~ Doug Haywood ~
8:00 pm: Steve Spurgin - In the world of Folk and Americana music, some traditional songs have been beloved for centuries and are known all over the world. They form the basis of our musical heritage and are well-loved by performers and audiences alike. Occasionally a song composed by a contemporary songwriter appears and is so universal in its appeal that it quickly becomes a de-facto "traditional" song. One of these is "A Walk in the Irish Rain," by Steve Spurgin. It has been performed and recorded by dozens of artists over the years, and is included in the repertoire of many musicians.
A musical life began early for Steve Spurgin, starting with lessons in classical piano at age five, and then moving on to French horn and choral training in school. The performing bug bit him in the early '60s when he picked up a guitar and started entertaining his schoolmates with the songs of his musical heroes, such as Bob Dylan and Gordon Lightfoot. In the summer of 1965, Spurgin launched a professional career that has touched on six decades. After playing folk music in and around Dallas, Texas, for a few years, Spurgin moved to the Los Angeles area, bought a set of drums and spent the next 15 years providing the backbeat for various bands everything from rock to bluegrass. He played behind such performers as Freddy Fender, Mason Williams, The Limeliters and Byron Berline's cutting-edge country/bluegrass band Sundance, which also included Vince Gill. During his time in California, he also did studio session work on the drums as well as voice-over work for TV and radio commercials. Spurgin moved back to Texas in 1983 and joined the honky tonk scene. He eventually picked up an electric bass and once again joined Bryon Berline in a band that became California, and included Dan Crary, John Hickman and John Moore. California won three consecutive IBMA Instrumental Group of the Year awards and traveled throughout the world, performing its own brand of power bluegrass.
Throughout his performing career, Spurgin continued to pursue his true passion -- songwriting. He spent three years as a Nashville staff writer for The Welk Music Group, assigned to Gene Watson and Reba McEntire. That association saw many of his songs recorded, and produced two major country hits for Watson. With a B.M.I. award in hand, Spurgin started his own publishing company for his songs that have now been circulated far and wide, such as "She Always Smelled Like Lilacs", "Muley Was a Railroad Man", "Band of Angels," and, of course, "A Walk in the Irish Rain. In 1994, after winning the prestigious "New Folk" award at the Kerrville Folk Festival, Spurgin began concentrating on a solo career and has become one of the most distinctive and enjoyable singer/songwriters on the Americana music scene. His live performances showcase original songs full of insight, humor, love, tears and nostalgia.
In the world of singer-songwriters, Steve Spurgin is the genuine article.

9:15 pm: Doug Haywood will be sharing the evening with Steve! And he will be joined by Joel Dowling! Doug Haywood, from a 2015 interview with Mariah Fleming: Doug Haywood is a singer-songwriter-musician who has worked with some of the most iconic musicians of the last four-plus decades. Haywood has a list of credits that is mind blowing. "I'm the most famous musician nobody's heard of!" he says. The average music listener may not have heard of Doug Haywood, but he's certainly well known to the many iconic musicians with whom he has worked. The short list includes Jackson Browne, who he's toured with (and continues to do so) for twenty years. The list includes artists like Linda Ronstadt, Graham Nash, the late Warren Zevon and many others. It's a very long list of touring and recording credits. Jackson Browne and Doug Haywood reunited to record Browne's release "Standing In the Breach," with Doug singing harmonies...
Doug Haywood is not a name-dropper, even though he is one of the preeminent 'sidemen' in the music industry. People who follow his music appreciate his superlative talent, humility and humor. He's co-written many songs with people like with Jack Tempchin who wrote "Peaceful, Easy Feeling." Haywood's own songs have been recorded by artists such as David Lindley, Bobbie Gentry, The Dillards, Mason Williams, Jennifer Warnes, Juice Newton and Jerry Reed. He had a top ten hit with "If it Ain't Love by Now" recorded by Jim Ed Brown and Helen Cornelius. He (Doug) was also on SNL with Jackson when the original cast was there, and Steve Martin was host.
Haywood's got connections to Arizona music that go way back to the Mews and the Blue Goat Pub 'coffee house' days. Long time Valley residents will remember the Mews and the Blue Goat Pub as a bit of a circa late 1960's early 1970's Greenwich Village vibe in Scottsdale (and believe me, those WERE the days!) In that tradition, the Valley still has Fiddler's Dream, a 30 plus year old Phoenix gem which has hosted much great music over the years. If you've been there, you know what I mean. If you haven't, here's your chance to experience a stunner at this concert. Doug has been around long enough to have played under some good, and some not-so-good circumstances. This one will be a good one.

Advance purchase through Brown Paper Tickets will be $10; admission will be $15 at the door on the evening of the show. Advance tickets at: https://www.brownpapertickets.com/event/4305183
Doors open at 7:15 pm. Music starts at 8:00 pm.


Tuesday September 17 ~ NSAI Songwriter Workshop & Chapter Meeting ~
6:00 pm: NASHVILLE SONGWRITERS ASSOCIATION INTERNATIONAL - NSAI Regional Chapter Program: Locals Welcome
NSAI Phoenix, AZ Chapter will be having it's monthly chapter meeting / workshop on Tuesday at 6:00 pm at Fiddler's Dream Coffeehouse! The NSAI Regional Chapter program is based on providing songwriters at every level an opportunity to learn more about the craft and business of songwriting. You have the opportunity to meet with fellow songwriters on a regular basis, receive and give song feedback, participate in creative songwriting lessons, and most importantly be a part of the NSAI songwriting community.

For more information: www.nashvillesongwriters.com or contact dangutenkauf@gmail.com
Doors open at 5:45 pm. Please RSVP so we can get an idea of how many we will have in attendance.
Hope you can make it!



Photo: Two of a Kind Credit: Facebook

Wednesday September 18 ~ Two of a Kind Phoenix AZ "Grown-up" Concert ~
7:30 pm: "Grown-up" Concert at Fiddler's Dream!
TWO OF A KIND delights audiences of all ages with their music, good humor and audience participation. David and Jenny Heitler-Klevans of TWO OF A KIND love bringing people together and building community through music. Their beautiful harmonies accompanied by David's powerful, rhythmic guitar playing and Jenny's multi-ethnic percussion instruments create magic on stage.
An award-winning husband-wife duo, TWO OF A KIND presents concerts for families and children of all ages, including songs, puppets, movement, and stories - all with an emphasis on interaction and participation. Themes of songs and stories range from reading & books, friendship and animals to social issues such as the environment, conflict resolution and diversity. TWO OF A KIND helps audiences of all ages feel that they can create music and that they can make a difference in the world.
"Our songs are written out of great respect for children - their experiences, their sophistication and their desire to explore big issues. Our goal is to provide quality music that speaks to children and adults, and helps them to become people who make a positive contribution to the world - and to have fun at the same time!"
Admission: $5-10 at the door. Doors open at 7:00 pm.


---
Mark your calendar for these upcoming special events. Check our Facebook Events page for details.

Saturday September 21 ~ Dustin Starks ~ Denise Ingberg ~

Sunday September 22 ~ Mean Mary - Special Sunday Concert Night ~ (Advance tickets available https://www.brownpapertickets.com/event/4308224 )

Friday September 27 ~ ER and MMCM at Fidd's ~

Saturday September 28 ~ Sue Harris and Liz Warren - An Evening of Story and Song ~

Saturday October 5 ~ Terry Maple ~ TBA ~

Sunday October 6 ~ David G Smith Concert Evening ~

Tuesday October 15 ~ NSAI Songwriter Workshop & Chapter Meeting ~

Friday October 25 ~ Tracy Grammer Concert Evening ~ (Canceled)

Friday November 1 ~ Girls On The Road - Concert Night! ~

Friday November 8 ~ The Matchsellers ~ TBA ~

Saturday November 9 ~ Arizona Water Sentinels Benefit Music Festival! ~

Friday November 15 ~ Dan Navarro Concert Evening at Fiddlers Dream, Phoenix! ~ (Advance tickets available https://www.brownpapertickets.com/event/4317465 )

Sunday November 17 ~ Songwriting and the Creative Muse - A Workshop with Dan Navarro ~ (Advance tickets available https://www.brownpapertickets.com/event/4328069 )

Tuesday November 19 ~ NSAI Songwriter Workshop & Chapter Meeting ~

December 7 ~ We're Not Dead Yet: Jamie Anderson, Deidre McCalla, Diane Davidson ~

***2020***

Wednesday March 4 ~ Danish Folk Music with Gangspil In Concert ~

Friday March 13 ~ The Rough and Tumble ~ TBA ~
---
Fiddler's Dream is located one block north of Glendale Avenue on 17th Street, on the Southeast corner of 17th Street and Cactus WREN. Use the newly opened Sprouts grocery at 16th Street and Glendale as a landmark - we are one block further East on Glendale, and when you reach 17th Street turn North and go one block to Cactus Wren. 1702 East Glendale Ave, Phoenix, AZ, 85020 is the street address to plug into your map app.