Fiddler's Dream Performance Schedule
Check out our Facebook Events page for the our full calendar and latest event updates at Fiddler's Dream. Like our page there, and get updates in real time!
Our Facebook Main page has news, discussion and just pure fun going on at Fiddler's Dream.
To signup to our weekly E-Notices email list, Click here.
Follow us on Twitter @fiddlers_dream and Instagram @fiddlersdreamcoffeehouse

How About Volunteering at Fiddler's Dream Coffeehouse!
We need your help... Fidds is a non-profit 501(c)(3) organization, and our coffeehouse engine needs volunteers to keep it running. Please consider helping out - greeting guests with a smile, making and pouring coffee and drinks, taking admission and even being an emcee. And you will get free admission for the night! What a deal!
To find out more about being a Fiddler's Dream Volunteer, contact our volunteer coordinator by SMS-texting your contact info to 602-997-9795. If you don't have a mobile phone, call and leave a message on our VMS at that same number. It's that easy!

Thursday nights are Open Stage Night from 6:30 pm to 9:30 pm.
Open on July 4th!
$5 admission. Doors open at 6:00 pm. Order of play determined by order of arrival. One song per rotation.

Many wonderful musicians have shared their music on the Fiddler's Dream stage over the years. Our open stage began in 1996! Our Open Mic Night is an Open Stage Night, as we are completely acoustic, so there aren't any mics... just a whole lot of good music, and an appreciative audience!
We've made a few changes in the New Year, hoping to improve the experience for our performers and our audience! Doors open at 6:00 pm, and we start playing at 6:30 pm. If you arrive by 6:30 pm, you will be in the first rotation. If you arrive after 6:30 pm, you will be added to the list under the red line, and play in the second round / rotation. We do a one-song rotation and a time limit of no more than 4 minutes per turn. Stick around, everybody plays!
Play your turn - there are no substitutions or giving your turn to another performer. Give the performer their turn: unless you are invited to play with the performer, please don't play-along with your instrument. Join the audience and listen! And please don't play music outside, except to tune your instrument or quietly warm up a bit. Since we are all acoustic, sound does carry inside!

We discourage the use of cell phones in the performance area. Please turn them off or set to "vibrate". Please do not audio or video record a performer without their permission. Additional information is here.

Admission is $5. Thank you for having fun with us!
This Week's Events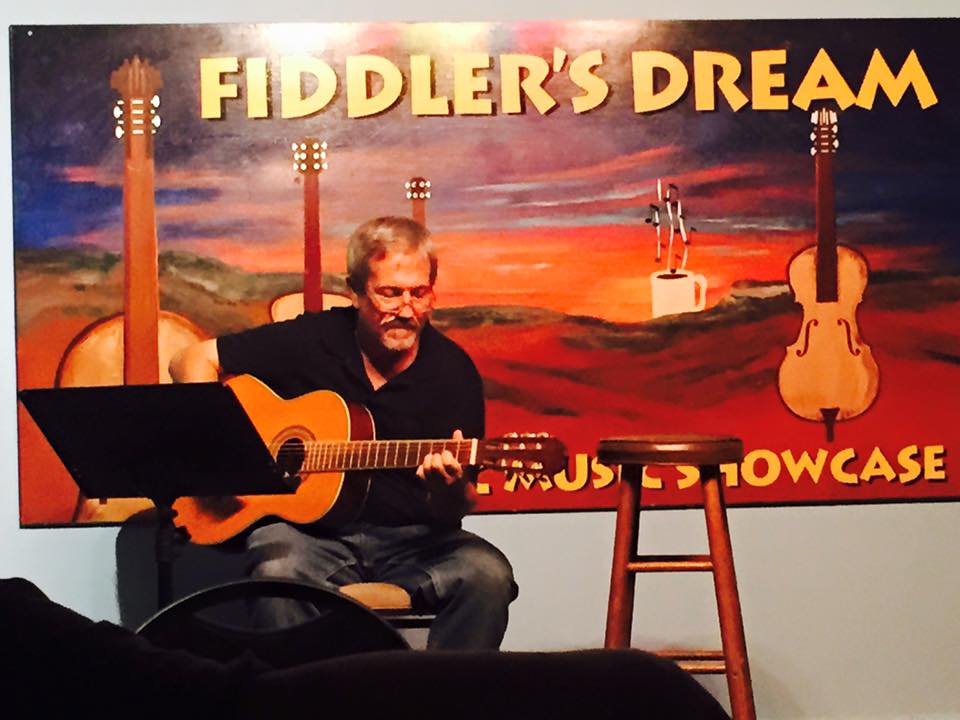 Photo: Jim Gratza Credit: Facebook

Friday August 16 ~ Jim Gratza ~ TBA ~
8:00 pm: Jim Gratza Check out Jim at: https://www.facebook.com/jim.gratza

9:15 pm: TBA

Admission tonight is $8. Doors open at 7:15 pm. Music starts at 8:00 pm. Remember that we are cash only right now.





Photo: The Sequels Credit: Facebook

Saturday August 17 ~ The Sequels CD Release Concert Night! Music begins at 7pm ~
7:00 pm: The Sequels – a group of high school students from the Arizona School for the Arts (ASA) - were founded in 2018 by Helena Haber (piano, flute, percussion, vocal), Kellen Vu (piano, guitar), Margaret Shepherd (viola, vocal), and Elaina Van Duyne (lead vocal) after Elaina wrote a song inspired by the classic school book, Catcher in the Rye by J.D. Salinger.
Their first recording was published on to YouTube, where it became a hit among the ASA community. After that, new songs followed, and they adopted Megan Teramoto (cello) into the band.
As the members of the band put it, "our songs are inspired by our favorite books you probably hated reading in high school" – a unique concept of capturing the spirit of books as personal reflections expressed in songs.
The Sequels have performed for various events - ASA Shooflies, ASA Shindig Night, and Girls Rock! Phoenix, among others - around the Phoenix area, such as at the renowned Crescent Ballroom and Valley Bar.
Their debut album "FAST FOREWORD" captures eight captivating songs of which six are written based on the books Catcher in the Rye, Song of Solomon, As I Lay Dying, The Great Gatsby, Brave New World, and The White Tiger.
On Saturday, August 17, the Sequels will perform their songs at the official CD release party at Fiddlers Dream Coffeehouse celebrating with friends and family.
You do not want to miss it, as this is one of their last performances before they move forward into a new chapter of their lives.
Admission tonight is $10. Special early start time of 7:00 pm! Doors will open at 6:20 pm. The concert will be held in the large Meeting room.

---
Mark your calendar for these upcoming special events. Check our Facebook Events page for details.
Tuesday August 20 ~ NSAI Songwriter Workshop & Chapter Meeting ~

Saturday August 24 ~ Van Isaacson & Leah Jean ~ Farrah Fig ~
Saturday August 31 ~ Cliff Riffle and Chris Riffle ~
Friday September 6 ~ Of Kith and Kin ~ TBA ~

Saturday September 7 ~ Jamie Carol ~ TBA ~
Friday September 13 ~ Andrew Ryan ~ Todd Baio ~
Saturday September 14 ~ Steve Spurgin ~ Nancy Elliott ~ (Advance tickets available https://www.brownpapertickets.com/event/4305183 )

Tuesday September 17 ~ NSAI Songwriter Workshop & Chapter Meeting ~

Saturday September 21 ~ Dustin Starks ~ Denise Ingberg ~

Sunday September 22 ~ Mean Mary - Special Sunday Concert Night ~ (Advance tickets available https://www.brownpapertickets.com/event/4308224 )

Saturday September 28 ~ Sue Harris and Liz Warren - An Evening of Story and Song ~

Saturday October 5 ~ Terry Maple ~ TBA ~

Tuesday October 15 ~ NSAI Songwriter Workshop & Chapter Meeting ~

Friday November 1 ~ Girls On The Road - Concert Night! ~

Friday November 8 ~ The Matchsellers ~ TBA ~

Saturday November 9 ~ Arizona Water Sentinels Benefit Music Festival! ~

Friday November 15 ~ Dan Navarro Concert Evening at Fiddlers Dream, Phoenix! ~ (Advance tickets available https://www.brownpapertickets.com/event/4317465 !

Tuesday November 19 ~ NSAI Songwriter Workshop & Chapter Meeting ~

December 7 ~ We're Not Dead Yet: Jamie Anderson, Deidre McCalla, Diane Davidson ~

***2020***

Wednesday March 4 ~ Danish Folk Music with Gangspil In Concert ~

Friday March 13 ~ The Rough and Tumble ~ TBA ~
---
Fiddler's Dream is located one block north of Glendale Avenue on 17th Street, on the Southeast corner of 17th Street and Cactus WREN. Use the newly opened Sprouts grocery at 16th Street and Glendale as a landmark - we are one block further East on Glendale, and when you reach 17th Street turn North and go one block to Cactus Wren. 1702 East Glendale Ave, Phoenix, AZ, 85020 is the street address to plug into your map app.